Basic Mountaineering Course ( BMC) @ NIMAS:Training with Army Ep 1/8
Basic Mountaineering Course (BMC) from the institutes like NIM , HMI , JIM  and the likes have a waiting period of minimum 2 years. Getting a date with Priyanka Chopra seemed more probable than getting admitted here.The only option available is NIMAS (national institute of mountaineering and allied sports) Arunachal Pradesh- a relatively new institute born in 2013 to provide a perfect training environment. The institute has trainers trained in Siachen High Altitude Warfare School (HAWS). Seemed like a perfect match.
My long standing dream of getting my ass kicked military style was coming to reality.
There are 8 parts in this NIMAS journey. Make sure you go through all of them for total clarity. The higher camps are very beautiful & just too surreal to be true. In the 6th & 7 th part of this blog you can see the exotic locations of dreamy Jeethang & icy Meerathang.
Select Tabs below for your reference
Things to Carry
Things to Carry:
Following things will be provided by the institute:
Down Jacket, Poncho, Raincoat, 70L Backpack, sleeping bag, foam matress, tents, Helmets, Plastic tiffin, Plastic bottle , Plastic cup
Climbing equipements( picture below): short sling, carabiners, descenders, jumar, seat harness, mitons, Ice Shoes ( this you will need to carry in you bag , Other shared equipements will be load ferried by staff).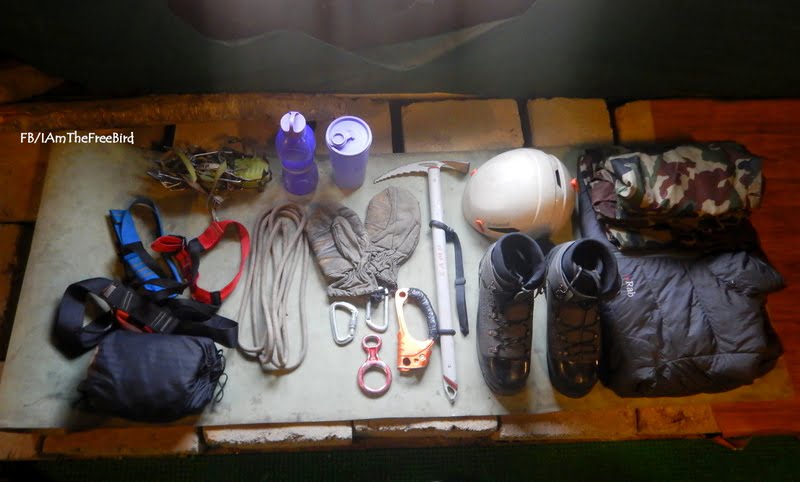 Remaining Things to be carried are:
For Normal treks:
Light hat for trekking          – One 
Light weight rain Coat, Poncho or Umbrella        –        One (Redundant, since it is provided at the institute. I carried a normal rain coat & kept it at the Dirang camp form where i carried the institute provided camouflage raincoat. The army raincoat is very bulky and takes up lots of space & adds dead weight. I would recommend you to carry your own light weight rain coat) 
Normal socks                                  –        5 pairs
Proper trekking shoes  like  Quechua Forclaz 500                 –        One pair
Dark goggles with side covers      –        One pair ( Anti glares & UV resistant .Buy the one with side covers otherwise you will get red eyes due to cold wind)
A normal full sleeved tshirt           –          Two
Track paints (preferably water resistant )-        Two
Trekking pole ( optional )
For the stays & for  high altitude:
Undergarment sets                        –       Atleast 5
Woolen undershirt & pant           –       Two Sets
Heavy full sleeve FLEECE  jacket –    One ( or two thinner jackets)
Cap Balaclava (woolen)                –      One
Woolen Gloves                               –       One pair
water proof gloves                         –       One pair
Woolen socks                                 –        Two Pairs ( For night, if required)
A Thin towel                                   –        One
A slipper ( does come handy in the initial camps )- One pair
Thermas bottle                              –        Optional ( Normal bottle will do. I carry this as i like hot water )
Torch with cells                              –        One (with spare batteries) My torch 

My torch
Other Stuff:
Writing materials and  pen                             –        As required
Repair kit i.e. needle, thread and buttons      –        As required
Camera Gear                                  –        As per interests. ( This is my water proof camera)


My water proof cam



Toilet requisites
Body & clothes soap.
Face wash
Anti-bacterial powder
Sanitizer – 3 small units should take you through.
UV ( SP 40+) sun screen.
Medications ( As per requirement. I carried this Myostaal oil which is good for your knees )
Tooth Brush & paste ( Small paste. Don't carry a huge one )
Food:
Dry Fruits ( The institute does provide you ration of dry fruits & chocolates. I did carry my own stuff though. Extra food is always good )
Chocolates ( Carry dry fruit chocolates – a lot of them )
ORS ( Rehydration salts. I carried almost 20 packs of these)
Documents:
Carry Passport & Aadhar card with photocopy.
Two passport pics for ILP.
Medical Certificate 
BRO TIP 
The weight becomes a huge burden as you reach higher altitudes. So only carry the most essential things. As a thumb rule pack at most two sets of everything apart from socks & under garments.
Your excess items can be kept at Dirang, the first camp. New Melling would be the last camp where you can keep back the excess weight. But do remember you will need to carry this weight back to the base from New Melling camp on the way back.
My Preparations
Training & Sleep Alignment.
NIMAS website (Nimas New website) suggests that one starts the training three months prior. I actually started a month back and decided to squeeze the three month training into a month. The day at NIMAS starts at 5, while I wake up by around 830 -9 hence had to gradually adjust my schedule to align with the 5 am day start.
One month & three week prior: No training because of my sprained knee
One month & one week prior: Started with simple exercises and physiotherapy sessions to warm up my body for a week
One month back:
10 March 2017: Wake Up time: 0830 hrs. 20 Pushups, 20 Jor , brisk jogging and crunches- 2 sets
11 March 2017: Wake Up time: 0830 hrs. 20 Pushups, 20 Jor , brisk jogging (15 minutes) and crunches- 2 sets
12 March 2017 Sunday:  Wake up time: 0730 hrs Swimming 1.5 kms in Dam
13 March 2017:  Wake Up time: 0730 hrs. 20 Pushups (2 sets), 20 Jor, brisk jogging (15 minutes) and crunches- 2 sets
14 March 2017: Feeling lazy rest day
15 March 2017: Wake Up time: 0700 hrs. 20 Pushups (2 sets), 20 Jor , brisk jogging (15 minutes) and crunches- 2
16 March 2017: Wake Up time: 0700 hrs. 20 Pushups (2 sets), 20 Jor , brisk jogging (15 minutes) and crunches- 2
17 march 2017: 20 jor, 20 push up, crunches 2 sets.
Two week passed by, the exercises had become routine. Body had begun to show visible changes. I was easily able to wake up by 6 am.
1 April & 2 April.: I swam more than a km daily.
The same routine continued till the D-day. The stamina showed visible improvement.
BRO TIP 
These exercises were good for basic stamina but not at all good for rock-climbing. As I later learned, the things one should practice more are the finger tip push-ups. These help is strengthening the fingers which is very useful for rock climbing.
More running should have been incorporated in my daily training. My sprained knee prevented from doing this and as such I had less lower body strength as compared to my upper body strength.
Inner Line Permit
Inner Line Permit 
It is necessary to get entry in Arunachal Pradesh. Do plan to get the ILP done in time for swift movement to Arunachal. Please set aside a half a day in your schedule (during working hours) to get this done.
Things required for ILP:
Two passport size photos and ID proof preferably passport  or AADHAR card.
Possible places to get ILP :
Online (You can get for maximum 15 days) http://www.arunachalilp.com
All the possible places where you can get the ILP physically are stated here http://arunachalipr.gov.in/ILPEntry.htm.The places not stated here are the Guwahati Airport & Bhalukpong (It is a place enroute to Dirang via Tezpur).
Bro-Tip:
1)        Guwahati airport does have a on-arrival ILP counter but it closes at around 5 pm. So if you are arriving late at the airport plan for ILP from some place else.

2)        The shared Sumo's which ferry from Guwahati to Dirang directly have changed the route from Via-tezpur-bhalukpong  to a new route via Rupa-pass. As such if you planning to take a SUMO & get a quick ILP from Bhalukpong  that wont be possible (unless you get a private vehicle). There are four security posts via the RUPA pass and the first one at Bhairabkunda (trijunction of Bhutan, Assam & Arunachal)  wont let you pass if you don't have an ILP in place.
Things to ponder:
ILP is not checked on the way back, I am not sure why do they make a fuss of getting the duration right while getting the ILP. Not sure what happens when people overstay their welcome.
Double- standards: No ILP checking for people arriving by bus
Reaching Dirang
How to Reach Dirang:
Dirang is about130 km from Bhalukpong, 190 km from Tezpur & 350km from Guwahati.
Near By Airport: Guwahati & Tezpur. ( 
Near By Railway station: Again Guwahati & Tezpur
By Road:
1        If you are a bigger group you can take a private sumo from Guwahati or tezpur all the way till Dirang.
2        For the people travelling alone there are shared sumos available from Guwahati and Tezpur. As well as there are bus services available. Driving through these is roads is risky and hence these transport starts between 6 to 9 am only. Be sure to book a seat a day prior for convenience.
There is a new road route from guwahati via RUPA pass (via Bhairabkunda) which is less spine –breaking than the older one via tezpur & bhalukpong. The only pitfall is that there are no ILP centres on this route as opposed to the one at Bhalukpong route. If you have the ILP, the route is super scenic and totally worth the time.
Planning the route:
Reiterating the importance of ILP, please get it planned properly. The route between Dirang & Guwahati/Tezpur is pretty tiring so plan to start the journey from Guwahati/Tezpur a day prior to your course in Dirang. Goes without saying reach Guwahati/tezpur a day prior. You can stay at any of the cheap hotels available at about 400-800 bucks for the night.
At Dirang:
Once you have reached Dirang after about 8-10 hrs of travel, the travel ends & get ready to trek . The NIMAS centre is perched atop a hill and can easily take upto 70 minutes to climb from the Dirang. Unless and until you are lucky and accidently bump in to one of the professors who can call up some vehicle to pick you up.
Prelogue :
The lazy body screamed for attention. The intermittent knee pain had prevented me from trekking for a long time. The lack of treks had reduced the vigour which in turn made me more lazy & chubby. A vicious cycle indeed.
The ajile projects lead to spending more time in office.
More office. More work. Less Joy. Less Life.
The project seemed to come to an end somewhere near March end. Light at the end of tunnel. I saw this as an opportunity for a long break and probable month long vacation coming to reality.
The options in my mind Rupin pass, Lamkhaga pass, Borasu pass would require 10-15 days of leave. And the BMC would be requiring a month long vacation. A month long vacation can only be possible in between projects for an IT guy. This is the apt time for BMC- Basic Mountaineering course.
How come there are no obstacles?
I always have issues getting the leaves approved. But this time around, inspite of being a month long vacation there were no issues ( being the project end)
But on the first day of training itself ( one month & 3 week before the actual course) I sprained both knees while jogging. Never have I felt such a type of pain in my knees. Was barely able to walk for the next 2 days
Knee Pain:
It was around 1 month and 3 week pending for the BMC batch of 11th April 2017. I have the leaves approved , but the recurring knee pain prevented me from booking the course. I visited a orthopedic  who suggested there was no damage and that I have stiff hamstrings. Physiotherapy was suggested.
Physiotheraphy &  impossibility of getting month long leaves approved again helped me a lot to keep a positive mind to overcome the knee pain.
BMC-Adventure of a lifetime
Finally after month long planning (people plan it way back) its D- day.  I had booked a direct flight from Mumbai to Guwahati from here.
I pushed back the booking as far as possible since I was not sure about the sprained knees. Knees felt a bit normal but there was intermittent pain. Anyways a quick drop to the terminal T1 Mumbai was scheduled.
Flight landed at Guwahati airport on 09th late evening, took the AC bus to the main city (Rs 130). I got down at the bus stand wherein the shared sumo taxis can be booked to Dirang (Besides the Guwahati railway station). I booked the shared sumo to Dirang for Rs 700 early morning the next day. Late booking meant I would get a back seat. Try booking a window seat as the route is pretty scenic. Now I had to find a descend budget hotel for my night stay. There are plenty of hotels near by. Hotel search on foot with a huge ass backpack of 17kgs followed. Reconnoitered 3-4 hotels, before settling for a Rs 400 a night room. You can search for the hotel Prince B, Guwahati here. This was the best budget hotel i could find. YOu can try searching other options below.
Having a dead mobile meant getting up early was huge task. Fortunately the hotel owner agreed to wake me up at 0400 hrs. Not sure of his sleeping habbits I ended up waking up every now and then to anxiously check the watch. A sleepless night ensued red eyes in the morning. The hotel guy made good on his words as he woke me up by 0415 hrs.
10 April 2017:
A quick wrap on the morning activities and a packed back and I was ready by around 0530 hrs.  As I came out of the hotel, to my utter shock, it was like broad daylight at 0530 hrs. I was worried my watch had stopped working and had screwed the pickup timing. A quick cross check confirmed it was indeed early morning. The sun does come out here early. Super early.
A quick rush to the SUMO stand where I got my bags loaded( Keep your glares, water, ILP, Ids, food outside. It's a super long journey). The back seat was what I got and was pretty upset about it. However only 9 people turning up meant the last seat would be shared by 2. Pretty comfy eh.
The journey started smoothly with empty roads and a chilled climate. F1 driver that we had rushed us though the mainland into the hinterlands of Assam. The time seemed to be frozen here. In middle of summer there is lush greenery everywhere. Green Trees are adorned by red & yellow leaves.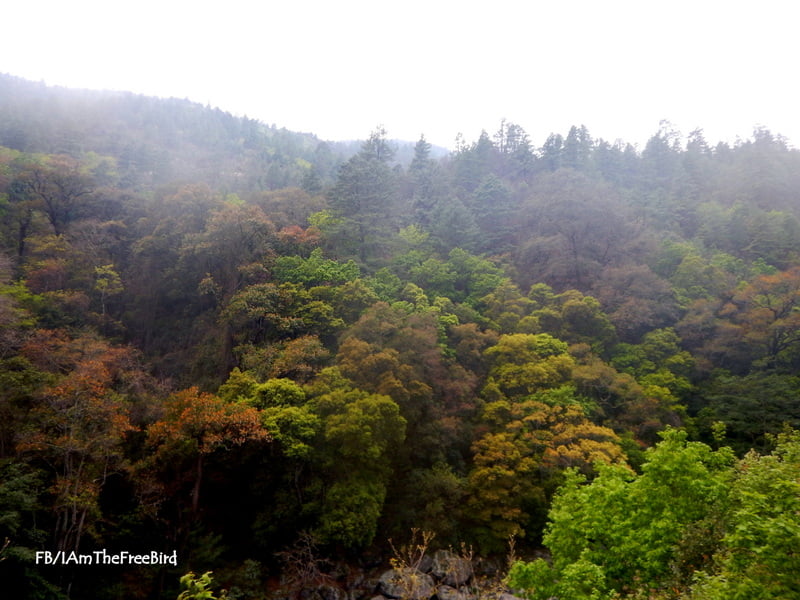 Cycles seemed to be main mode of transport. Women piggybacking their kids. Water is transparent. Serene. Heaven.
Soon enough we arrived at the Bhairabkunda crossing at the Arunachal border. The ILPs were checked and we moved into Arunachal. The new route starts to get even more deserted from here. Not a vehicle in sight. We are accompanied by rivers, waterfalls, exquisite birds and trees drapped in yellow,red & green. The three other checkposts are the only human contact that we get after a long time. The route slithers through the mountain into the clouds as we gain height rapidly.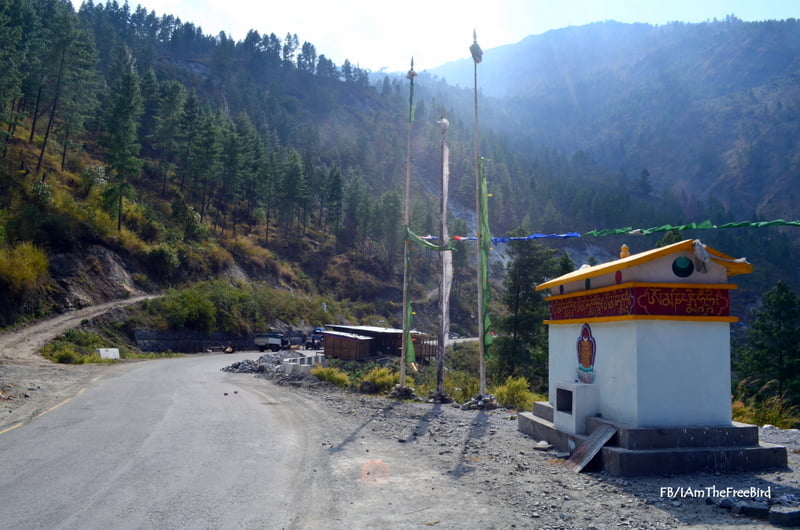 If the route was any sign then the nature's beauty was going to go bonkers as we move towards the Chinese border throughout the month long trek. We continue the journey to reach Dirang around 1600 hrs. Getting down in this idyllic town besides the river Dirangchu, the trek started immediately as the institute is perched atop a hill. It can easily take upto 2 hrs to climb from the main city. If you are lucky enough to accidently bump into one of the professors he might call up some vehicle to pick you up. I was lucky to meet Mr Manjeet sir who called in for a vehicle.
The route was muddy and recent rains had unsettled the hardened soil. After about 10 minutes of a bumpy ride we reached what was supposedly NIMAS. There were no signs about the existence of a premier mountaineering institute called NIMAS. There were just 7-8 houses visible.
A new institute & a new mountaineer in the making. We will grow together.
I was directed towards the dining room where the group of early birds were already filling up the forms. This is where I met Mr. Gurung sir for the first time. He is one of the most energetic people you will meet through the course. We were shown the tent where we would be put up in during our stay in Dirang. The huge tent was made comfortable by 24 like minded enthusiasts from throughout India. Diversity.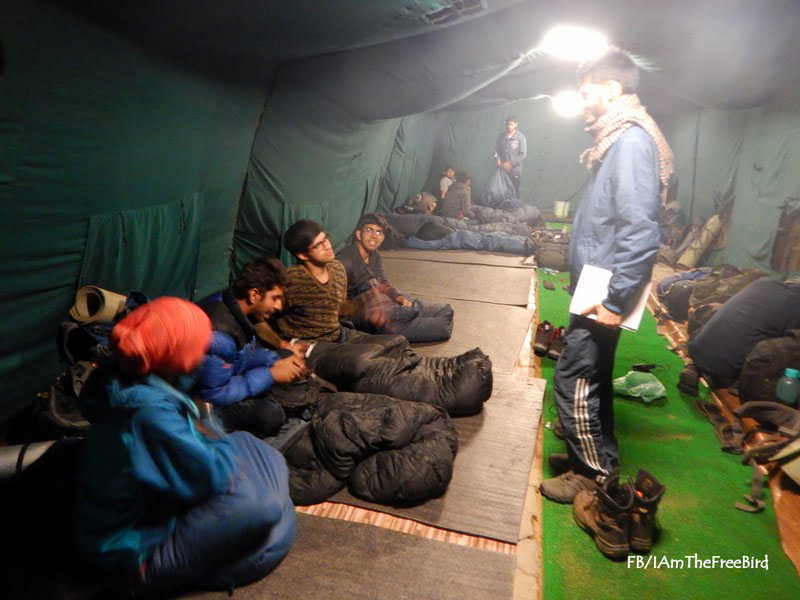 The first lot of equipments was received which included a 70L backpack, sleeping bag, down jacket, carabiners, descender, short sling & foam mattress. Other equipments would be received when we would meet the previous batch on their return journey.
Dinner time was announced around 7pm. Too early for me. But then the day begins & ends early here. In the days to come we wished the day ended earlier
Dinnner rules: Shoes must be on all times. Full tracks are must. Vacate seats immediately after dinner.Welcome to the Indian Army.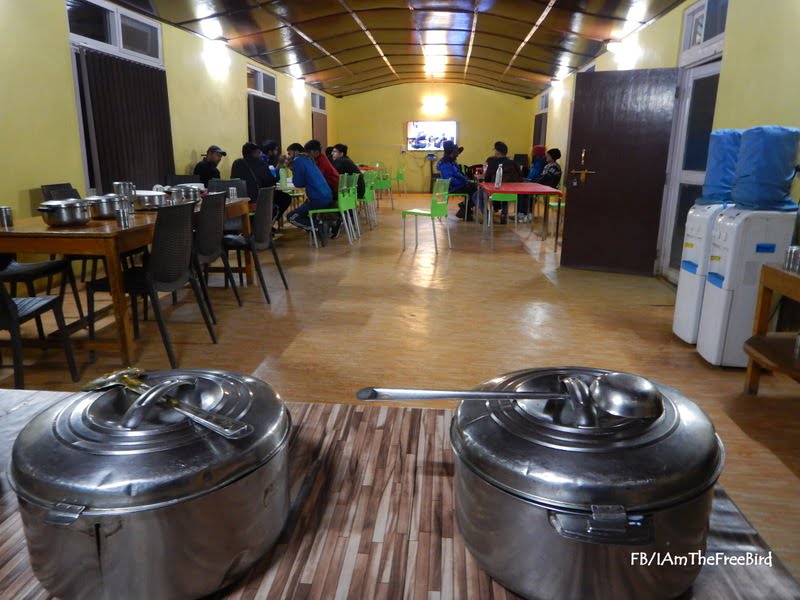 This was one of the best sleep I had in days. The gruelling days that followed ensured that I slept like a dead log throughout the course.
April 11 Day1: Journey Begins.
The course started off with a PUJA to seek blessings for our course. The mandir is located at the highest point on NIMAS land. We had to get ready by 0600 hrs. Getting up at 0500, I was still awestruck by the bright morning. It was no dawn, it was bloody Harry Potter going Lumos Maxima on the sky. The name of Arunachal (meaning land of the rising sun) is quite apt.
At 0500 hrs: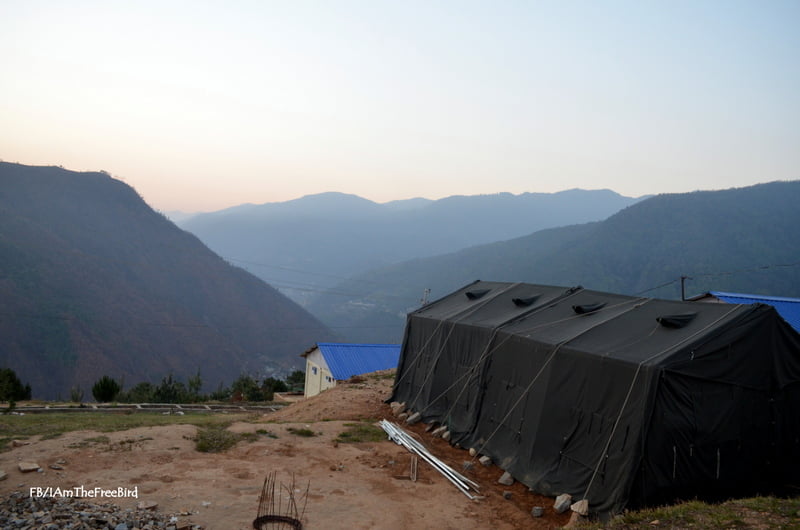 The platoon got ready for the blessings. We went into full rockstar mode as we rocked the slogans to summon the divine. The prasad was tasty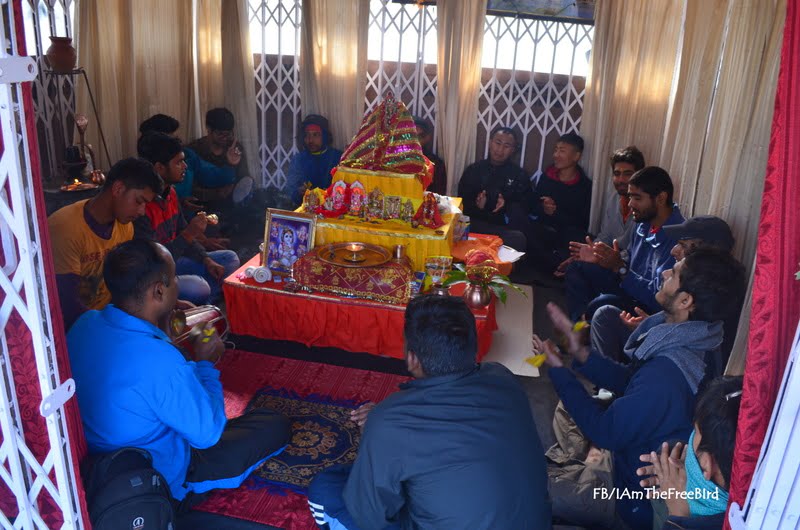 We were informed about the first of the many lectures to come would be starting off with Mountaineering equipment introduction & Rucksack packing. This is probably the best timed lecture as we start this journey.
The mountaineering equipment session was an eye opener as we finally had some clarity about the gear. Mr. Sanjay  sir did a perfect opening session.

The rucksack packing session certainly helped me in prioritizing my backpack stuff. This was my first brush with the enunciation of Rucksack. The world as I knew calls it "rʌksak" . But the commonly accepted pronunciation by professors is " rOOksOOk" . This was a bit funny at the beginning. But by the end of the journey "rOOksOOk" had become commonly accepted and was quite endearing. Rucksack was just a bag above 40 litres, but rOOksOOk had a soul
A mountaineering terminology session introduced us to mountain jargon. A delicious lunch with chicken followed setting high standards for food.
What followed after lunch was utter confusion for days to come. The knots and rope coiling session. Endman, Guideman, Bowline, hitches, indirect knots …I was at wits end.I never expected an innocuous looking 6 ft short sling  can cause so much confusion in my life.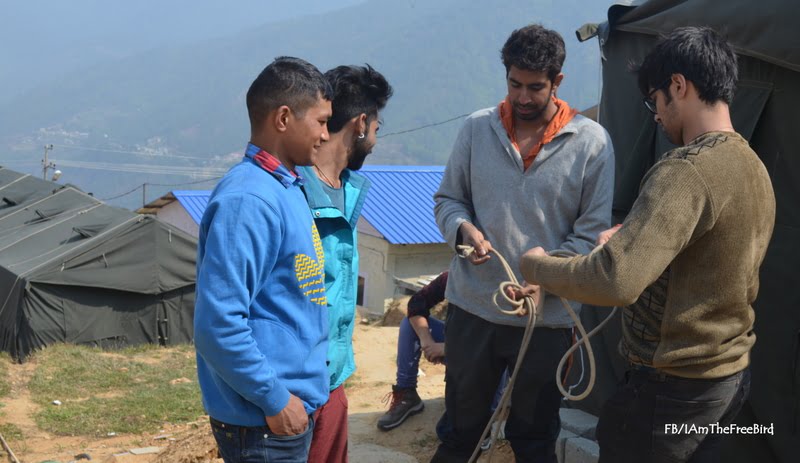 We were taught so many knots which I understood till halfway only to be blatantly confused later on. Only if I knew how to tie the suicide knot I would have hanged the inventor of this confusion. It took days of practice to get the knots right.
After an eventful start to the day we spent the cold evening marinating in our own mediocrity trying to get these knots right. We decided to give up the attempts to practice these some times later. Time to sleep. Its only 2100 hrs.  The next day heralds the start of the physical training session.
April 12 Day2:
The day started with the same old Lumos Maxima. The platoon was ready by 0605 hrs 5 minutes late. Here is where we got the army taste of discipline.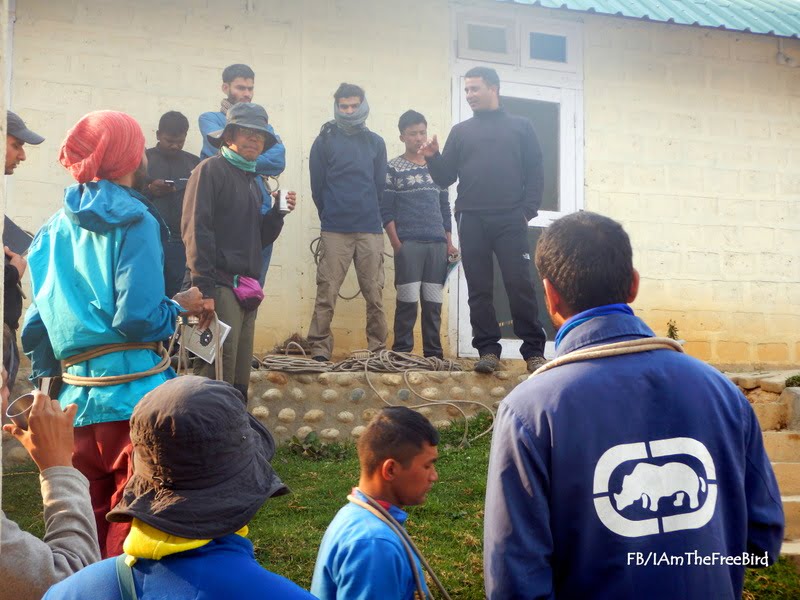 Being the first day, first time we were let off easy. In days to come any delay welcomed 20-30 push ups.  "Pushups are the tonic of the mountains" & we were high on this tonic for days to come.
We started of the physical training with around 5 kg in the rOOksOOk. But first we woke up the entire mountain with cheers of " Bharat Mata ki……Jai"
The route till the nearby hill top seemed pretty easy. Lungs seemed to have a different picture in mind. No sooner did we start the ascend the acclimatization made us breathe like crazy. Since times immortal acclimatization has always been a bit©h. Initial days are never easy. As has always been drink lots of water and let nature take its course.
The easy climb was made difficult for breathless trekkers. We returned that day walking half the planned distance. As we reached the base we were hustled for core strength exercises. These are very draining and you become aware of your limits pretty fast.
Quick breakfast at the dining room and we headed back for on training bouldering at the damned physical training hill. The theories were interesting in front of the rock. " Rock Baba Ki…….Jai"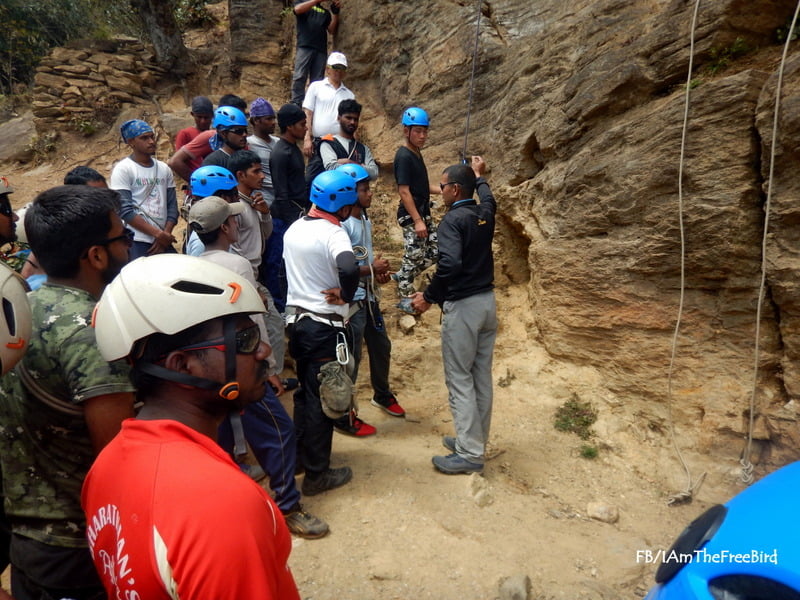 But the practical is what got us racing.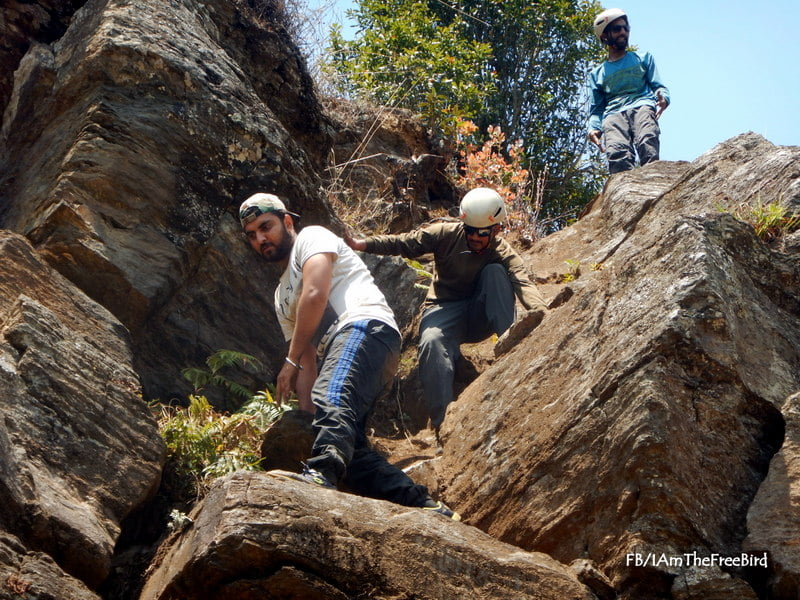 The near by rock-climbing area was used by AMC batch & we hoped to return to do this tomorrow.
Back at the base, we had evening lectures on Tent-pitching & much needed clarifications session on knots and rope coiling. The dinner had sweetened milk. Good night.
April 13 Day3: Rock Climbing 
Lumos Maxima. Up & Ready by 0600 hrs we  were determined to reach to the top today. We huffed & puffed but we did complete the PT today till the decided point today. A sense of relief prevailed as we felt our acclimatization level improve over the previous day. Back to the base after a gruelling cool down session we had a quick breakfast & headed back to the rock- climbing area for Anchoring & Belaying sessions. Artificial and natural anchors. It was wonderful hands on experience with Piton, hexcentric & Camelot. Manual belaying was definitely not going to be easy on shoulders. The lectures took too much of our time. No hands on rock climbing today.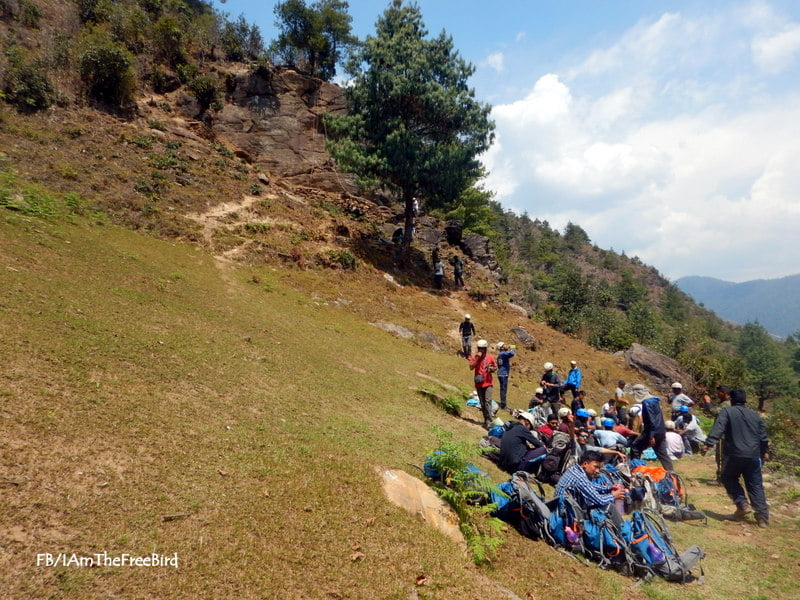 Back to the base the lunch was completed briskly as we awaited the next session by Everest climber Mr Ram Malla. The session was a real adrenaline pump as sir took us through the virtual tour of Everest and few of his other adventures.
The evening seemed colder as the tired body screamed for rest.
——————————————-
If you fancy my CAMERA
Waterproof cam
My DSLR 
——————————————-
April 14 Day 4:
With better acclimatisation comes bigger weights. We upped the rOOksOOks weight today and headed to the PT hill. Today we climbed a bit high as compared to yesterday. It had snowed yesterday and the snow clad mountains at the end of horizon made for a wonderful picture.
Back to the base, we were excited for the first rock climbing session. The wall looked easier from a distance. Practically, bruised hands & knees did manage to get me to the top . The rock climbing session was done.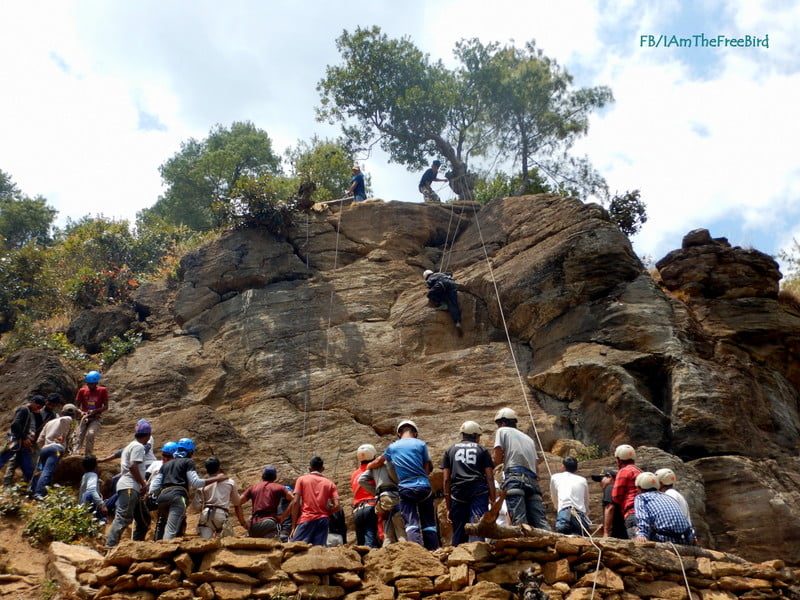 On enquiry, I found that the artificial rock climbing wall is under construction & the rock climbing sessions at the next camp at New Melling was bound to be tough as hell.
Rapelling sessions followed. The view was great !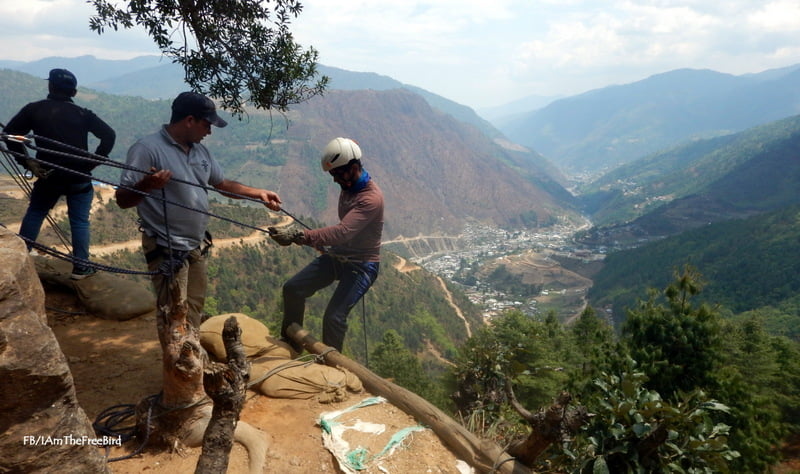 The session were curtailed as the sky was getting increasingly cloudy. No sooner did we reach base it started raining crazy. Soon there were hail stones. The small ball bearing shaped hails falling on the dining room's roof was music to my ears. The cold climate sprinkled with hails was a perfect moment for a cup of hot tea.
Lectures were cancelled. So much pent up energy in the tent meant people discussing bigger issues of life. Demonetisation, Narendra modi, Amrendra bahuabli etc were discussed. No point seemed conclusive.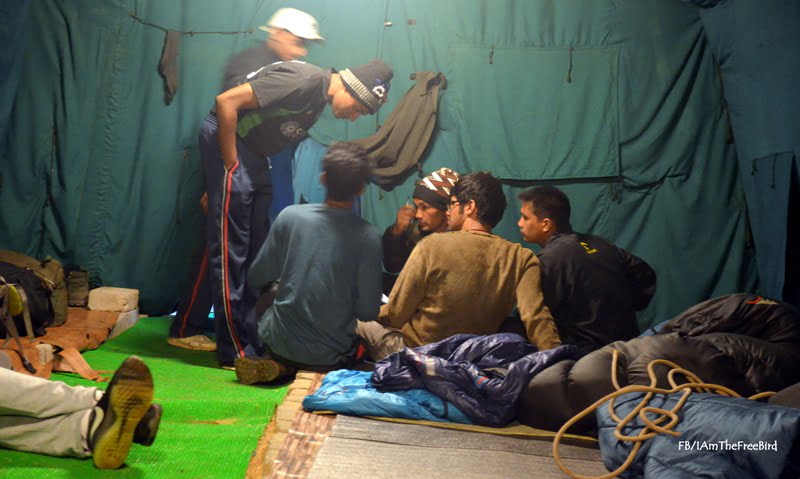 I decided to shut my mind off and switch off from this conversation. There is big day tomorrow.A 15 km  trek @10 kg rOOksOOk awaits
Here are some moments at Dirang


Real Adventure begins as we move to higher camps wherein we take part in advance rock climbing, river crossing, swim in hot water springs, survival classes, ice wall climbing & the list goes on. Next we move to Camp 2 New Melling. Click here to read about the NEXT camp Ep 2/8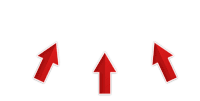 If you enjoyed reading this you can follow my adventures on Facebook ,  Instagram ,   G+ ,  Tweeter  & YouTube .